First few minutes of "Ecstatic States" featuring Ram Dass



There are many consciousness teachers around today, but none have the intelligence, insight, humour, personal experience, and academic training as Ram Dass. He is recognised as the teacher's teacher, and celebrated by hundreds of thousands of people, whose lives he inspired.
Please consider the following:
Have you ever wondered whether you have any way of experiencing higher or altered states of consciousness ?
Perhaps you have had times where you perceived life in a totally different way, or maybe you believe that there must be realms of experience and perception, far greater and more amazing than those of everyday life.
Or, have you heard there are people who have entered into ecstasy, bliss and euphoria, without drugs or extreme practices, and who speak of these as the true state for every human being?
Or maybe you practice Yoga, Meditation, Martial Arts, or are interested in true Self Development, or follow a Spiritual path, in the hope of gaining insight into the secret of life, or contacting and using a far higher intelligence.
Or are you interested in higher potentials of the mind, and revealing powers of creativity and insight, from deep within yourself, which will put you on the same levels as geniuses and exalted beings from all ages?
My name is Michael Domeyko Rowland. I am Australia's leading self development author and presenter. Over 220,000 people have attended my seminars. I am also the author of the bestselling book, ĎAbsolute Happiness'.
For over 35 years, I have been studying self development and successful living. My entire adult life has been committed to learning how, or what, I need to do in order to live a life filled with joy, happiness and inner peace, and have the ability to access the transpersonal realms and higher states of consciousness.
And I am happy to say that I have had some incredible experiences as a result of this work. If you apply yourself to it properly, it will definitely bring results. But, of course, you need to know exactly what the goal is, or obviously you will not arrive. Precise knowledge of this goal is the most important factor for anyone's life.
One of the first and greatest influences which clarified the goal perfectly, was Ram Dass. Originally a Psychology Professor at Harvard University, Ram Dass (Dr Richard Alpert), along with Timothy Leary and Aldous Huxley, influenced a whole generation of people about higher powers of the mind, expanded states of consciousness and ecstatic states.
He based it all in a scientific, methodical and rational framework, and so allowed these deep, and most meaningful human experiences, to be available to anyone interested in exploring them. His discoveries have greatly increased understanding of the psyche and consciousness, and have significantly enhanced countless people's lives.
I have been so impressed by his discoveries, that I have directed a documentary video interview about his life and work. In it, Ram Dass tells of:
His amazing experiments with psychedelic substances
His journey across the world, ending in the Himalayas, and meetings with the enlightened beings, Neem Karoli Baba and Paramahansa Muktananda. (There is rare archival video footage and photos of both.)
Meditation, Mantra and Spiritual practices
Altered states of awareness and extra sensory perceptions
Out of Body experiences
Kundalini and the chakras (the subtle human energy system, with 3D graphics showing how it works)
Karma
Conscious Ageing
How his discoveries are expanding the boundaries of traditional psychology
Bringing up children with awareness
The deepest meaning and purpose of human life
His stories are absolutely amazing and jaw dropping. And, with them all, he is highly intelligent, very, very humorous, and gives deep insights into the human condition.
This 80 minute interview and documentary is designed to allow you to be present at a conversation you will never be able to hear anywhere again. It is filled with information about how your mind works, and can radically alter your perception of what your life has to offer you.
It is all explained in a way which is very easy to understand. Coupled with beautiful and rare images from India, and 3D graphics to enrich his stories and explanations, you have a unique and brilliant video experience with the most influential and perceptive teacher of human potentials.

" Those who are familiar with the inspiring clarity with which Ram Dass shares himself will be delighted with this wonderful video. What initially appears to be a biographical documentary is transformed by Michael Domeyko Rowland's interview questions into a very different journey altogether.
We are taken deep into the realms of expanded awareness, where meditation techniques, the guru, karma, the distinction between awareness and consciousness, ageing, miracles, subtle energy body anatomy, and many other features of the spiritual landscape are clearly described and discussed in the context of Ram Dass' extraordinary life.

Excellently produced and directed, Ecstatic States is an engrossing reminder that there are dimensions of reality always open to us in the here and now to which we need only bring the awareness that is available to us all the time - once we tune into it.

This is an empowering video to watch again and again."
Review by Graham Barr
Adyar Booknews
"After watching the Ram Dass video with Michael Rowland, I understand why he has become, and has remained, a renowned teacher in the West.

Ram Dass' journey from Harvard Professor to spiritual seeker, his experiences in the East, and his meetings and travels with extraordinary beings is rivetting. He has an ability to communicate and express so many of the lessons and teachings he has received with such humour, and fantastic stories and anecdotes.

He makes you feel he is speaking directly to you in your own living room, answering so many of your unspoken questions about the spiritual path. It is such a pleasure to hear the perspective of someone who has lived such a varied and rich spiritual life, and who has become truly wise.

Every time I watch this video I learn more from it, and I feel totally inspired to continue on my own journey! It is so rare to be able to speak to a Western wise man who has not only experienced these things, but is able to express them to
others."
Paula Alfonso
Australia



I loved the nostalgic, opening shots of an innocent India, before it became industrialized.

For me, this video is significant, as we seldom have the chance to hear a personal account of the inner journey told so simply, clearly and directly from Presence. This is an account of Richard Alpert's unfolding journey into the splendid Ram Dass.

In the late 60's, Richard Alpert and Timothy Leary visited Mexico where we were living, and we met. At the time both men were convinced that drugs alone could bring about evolution and 'enlightenment'. Later Alpert realized that they gave you an experience of a state, without connecting with the evolution of the internal being, so he began his dedicated research into his own mind, to discover how it distorted the clear perception of reality that already exists in all of us.

His understanding that Awareness is the true path, ecstatic states the byproduct, is rare. That the path is totally individual, and even 'crocheting' can take you there if that is your true path. That ultimately your gurus live, not outside you to be worshipped, but within you, to be interacted with internally, sharing a higher dimension, reveals the depth of his enquiry.

It was heart warming to watch him 'turn in', before answering a complex question, never allowing a lesser meaning to take over from a true meaning, his deep understanding of the reality of the other world that embraces and penetrates this one - and much, much more.

Checking myself at the end, I found I was really happy, something inside had been deeply nourished and confirmed.
Lydia Duncan
Sydney, Australia

Your Investment
Many people spend hundreds or thousands of dollars on seminars and information that has only part of the story. Save yourself hours searching through the myriad of "new age gurus", because, fortunately, Ram Dass distils a lifetime of knowledge and experience into one 80 minute video, which covers in the clearest possible way, the goal and real potentials of human life.
The 80 minute Ecstatic States video with Ram Dass is available to:

Rent - Streaming for 48 hours US $3.99
Buy - Streaming & Download US $9.99
DVD + shipping - US $14.99 + US $5 shipping worldwide = US $19.99

If you watch the Ecstatic States DVD, I'm confident that you will develop a much deeper understanding of higher states of consciousness. If you don't believe the information Ram Dass shares is valuable to you, just return the DVD within 3 months, and I'll issue you a prompt and courteous refund. Just as long as it is left undamaged and has not been copied.
Order now to start receiving the benefits of Ram Dass' knowledge, which has added another dimension to so many people's lives. Here are your ordering options:
Online Secure Ordering: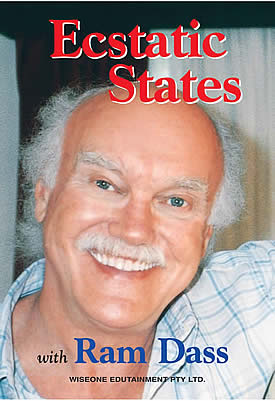 Ecstatic States DVD


US $19.99
($US 14.99 + US $5 shipping)






Ecstatic States digital version

Rent - US $3.99
Streaming for 48 hours
or
Buy - US $9.99
Streaming & Download
Phone:
Outside Australia + 61 2 9337 6992
(Australian Eastern Standard Time 9.30am-4.30pm Mon-Fri)
Within Australia 02 9337 6992 (9.30am-4.30pm Mon-Fri)
Email:

jcoroneos

@

bigpond.com



Thank you,
Michael Domeyko Rowland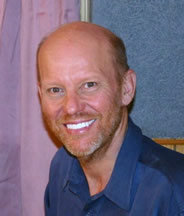 P.S. Save yourself years of trying to discover the ways to ecstatic states of being, and understanding higher states of consciousness. Let Ram Dass give you the essential knowledge, from his own personal experience. This is a brilliant and amazing experience!
"Working on our own consciousness is the most important thing that we are doing at any moment, and being love is a supreme creative act"
Ram Dass
------------------------------------------------------------------------------------------------------------------------------------------------------------------------

PRODUCED BY DR JOHN CORONEOS
PRESENTED AND DIRECTED BY MICHAEL DOMEYKO ROWLAND
DIRECTOR OF PHOTOGRAPHY TONY GAILEY, DAMIEN BEEBE, SOUND BY MAX HENSSER
EDITED BY KEITH LYNCH, SCOTT FERGUSON
SPECIAL THANKS RAM DASS